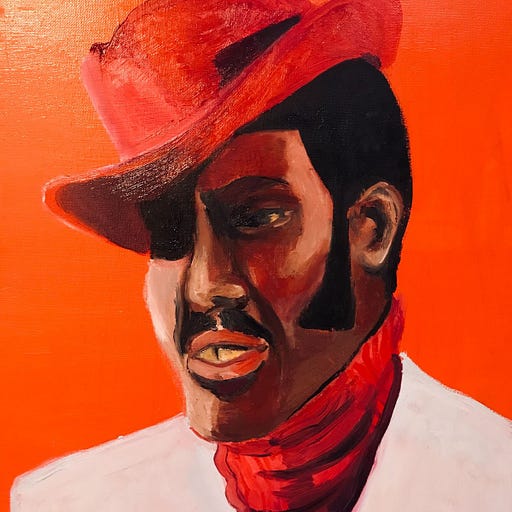 Jan 12 • 14M
FOR THE LIBERACE IN YOU
Shopping for Man Flair in Vegas - A story that previously received a kill fee from MAXIM
Las Vegas is one of the handful of places on earth that a stylish-yet- morbidly rich gentleman may go, peruse extensive libraries of finger-thrilling fabric swatches, be measured in 52 places, and obtain the highest qualities and most unctuously luxurious labels in bespoke suits — and all the monstrously pricey man-accessories to go with it.
For prices ranging from the merely slap-in-the-face extravagant to the "this is why Archduke Ferdinand was assassinated"-range — the fullest conceivable spectrum of made-to-order sartorial tastes is made to please the full gamut of gentlemen; from the conservative Captain of Industry to the garish Moscow Whore-Puncher, and all the eunuch tech billionaires, Yale Legacy nepotists, war profiteers, and Engleberts Humperdinck in-between.
My hunt for men's custom excellence, Vegas-style, began at the Loro Piana boutique in the Encore Esplanade, which, I was informed, is a big hit among the private jet crowd. Loro Piano will be happy to custom upholster your sky-yacht and decorate it with other nifty comforts such as the "Plaid Zibellino," a $90K Russian sable/cashmere blanket, which could come in quite handy if your pilot ejected you into the arctic circle.
Lora Piana has long been famed for its wools, which they categorize into
"7 Excellences"  — cashmere, baby cashmere (made, the saleswoman informed me, of "harmless combed underfleece"), Andean vicuña, the wool-world's most fetishized pack-animal, who Loro Piano helped save from extinction not long ago, that it might continue to provide the micro-hairs for their super-luxe pullovers ($4995); "Record Bale" Australian (the best wool available in Australia's massive annual wool haul);  "Pecora Nera," an underfleece so exotic that even the exhaustively knowlegable saleswoman could not remember the English name of what mammal it came from,
and "Gift of King" wool, made from the world's rarest and most coddled bloodline of Merino sheep.  A teal car-coat in "Gift of King" - for the 'Alfie' dog in you -  will set you back $11,000, but it will be as warm as you need on a cold desert midnight, but as barely noticeable as angels dancing on your cufflinks when you fold it over your forearm at the Baccarat table.
The last example of a Loro Piana Excellence I was shown: a $2550 man-scarf made of Lotus Flower, a stupefyingly difficult type of silk handspun by Burmese persons who apparently have to prosecute an entire genocide against fresh lotus stems within 24 hours to make a hanky's worth of the stuff.  The fibers are so basically invisible and the cloth is so idiotically labor-intensive and impossible to work with, you may as well just commission yourself an ascot surgically laser-crocheted out of spider-ejaculate. 
Loro Piano also features car shoes in a rainbow of exotic suede species; I particularly favored the shaved alligator suede, with anti-slip soles.  Add a pair of $200 cashmere socks, and you are ready to be pistol-whipped and robbed by your own chauffeur in any city in the world. 
The Rolex boutique at the Wynn Esplanade has its own miniature Rolex museum in the back. Their piece-de-resistance, The Safari Daytona, rocking in at a healthy $71,350, is a loud garish slut of a Rolex. The design is similar to the original, classic 1974 Oyster Cosmograph Daytona, made for auto racers — but for this iteration, the tachometer was replaced with a faceload of orange sapphires crammed around the bezel, and a yellow-orange leopardprint calfskin band. My first thought was that it resembled an object that Cher might have used in a cuttlefish-like fashion to dazzle and hypnotize Gene Simmons before devouring him (this assumption was more or less confirmed by the salesperson, who told me that Aerosmith's Steven Tyler owns one.)
Rolexes, I was informed, are one thing, but, if you really want a watch that will wow your fellow members of the "fuck you" wealthy, you're going to need something more rare - like, vicuña before Loro Piana decided to save the species from Loro Piana - rare.
The white-begloved representative at Wynn & Co. schooled me on the finer points of conspicuous watch-ownership.
What you really want, apparently, is something like a Breguet: a sensation of handmade machinery allows you to display an entire miniature gold Terry Gilliam production every time you swing your golf club to kill a peasant.
Wynn & Co. also boasts the biggest collection in the US of watches by Maitre du Temps, whose The Chapter II watch is a veritable bargain at $84,500, considering that it cram-packs 32 jewels and "three complications" into its thick Triscuit-size case, hand-carved out of a single wad of 18k gold. This Breguet is apparently the only extant watch that has rollers above and below that helpfully display full words like "DECEMBER" and "WEDNESDAY," for the man too important for abbreviations.
If you want a custom-made impossibly rare watch with a 300+-year-old French name, you may turn to Blancpain, who for somewhere in the area of $30,000 will make you a signature piece like one of their customers had made for himself, with dueling pictorial themes of Poker and The Great Wall of China.  Photos of the watch were unavailable due to discretion, because with the customer's name was engraved on the back ( so I just assumed his name was something like "Godfather of Triad Heroin." )
I had heard that Wynn & Co. had an $18m Billionaire Tourbillion watch for sale at some point in its vaults. I was informed, sadly, that it had not been sold (but after performing its extra-terrestrial function of annihilating the American middle class, was returned to its home planet, where it is presumably still watching us and waiting for its moment to return to Las Vegas as an apocalyptic comet. )
The Brioni boutique at the Wynn Esplanade, the stodgiest leading brand of the casino menwear offerings (apart from the similarly excellent Canali über-boutique in the Venitian's Grand Canal shops), has its own state-of-the-art secret weapon: a magic mirror in which a prospective suit-buyer may virtually assemble fabrics and shapes of his choosing for a 360-degree customization view.  It's a feat of technology rivaled only by the ability to visually select the eugenics of your own skinhead for Grand Theft Auto V. 
While the Brioni boutique also offers comparatively affordable ready-to-wear items (such as a leather-trimmed Eisenhower jacket with a removable mink collar - $5075), its pride and legacy is in the superb quality of its
bespoke suits.  Brioni provides prospective customers with a whopping array of the best obtainable suiting fabrics on planet earth. Average Brioni suiting starts at Super 120's to 150's, and can roll all the way up to Super 200's to 350's.  At Brioni, you can stick with the classics, like their entry-level Siberian silk suit (starting at $40K), or for a mere $70k-$80K, you can have your bespoke suit woven with diamond dust or 24k gold thread, for that King Herod/ Goldfinger look — just in case you were super-threatened by the idea of being upstaged by your own Oscar.
"What if I wanted the world's most fabulous Bozo the Clown suit?" I asked the superlative store manager, Jose Vivas.  He paused, diplomatically.  "At Brioni, we are not in the 'No' business."  However, he explained, Brioni does have a reputation to uphold, for requests deemed too - uh, colorful - the label, he would be happy to recommend an alternative custom haberdashery.
On a more casually super-expensive note, The Wynn is also home to The Wynn Collection, a curated collection of "modern-day luxe" — expensive, semi-casual ready-to-wear by Ermanogilda Zegna et al, as well as kickier items like super-expensive, formal versions of the Vans slip-on surf-sneaker made in black satin by Lanvin, just in case you are a scruffy, incorrigible unshaved genius-swinger who insists on accepting your Nobel Prize while sockless. 
"We're changing," said the manager at the Wynn collection, somewhat apologetically. "There's been a full renovation in the last three months. We're catching up to what guys want.  Guys have recently started dressing up a lot more these days….they're working out more, and they want slimmer-cut shirts." 
This was a revelation; when I asked what brought on this sudden Will to Metrosexuality, we both thought deeply about this for a head-scratching moment, then agreed it probably had something to do with the advent of the HBO offering, Ballers.
However heavily the bulk of the Collection's inventory relies on French and Italian luxury label ready-to-wear, they also discretely carry items that are more arguably "Vegasesque."  The manager finally pulled open a discrete drawer and displayed the works of a lesser-known, extremely classy brand called "Knotty and Nice," which specializes in Swarovski-encrusted neckties ($495) — apparently because businessmen and international crime-lords, despite their love of Zegna, also like to break out the ice and feel like Elizabeth Taylor sometimes.
The bling-ties gave me a yearning for more of what I really wanted:  sartorial expressions of obscene wealth more along the style-lines of Liberace or Cee-Lo Green.
Among the Palazzo shops a the Venetian, I was delighted to find a store called BILLIONAIRE, which at least had some genuinely ridiculous criminal items of attire I could really drool over, such as a bomber jacket made of electric yellow python ($17,495) and a matching duffle bag ($17,395) — also a flaming pink mini-sequin dress jacket, which, I was informed, was recently purchased by Bruno Mars. I was particularly taken with a day-glo paisely pajama set and matching smoking jacket ($2300), which would be the ideal attire for Hugh Hefner to throw in a set of night-putting in Palm Beach (a look all men should attempt to acquire, always.)
Unless you're planning to throw your jacket on the floor and have your prostitute be incredibly impressed by your Canali or Brioni label, there are other bespoke options in Vegas, which can make you a virtually identical made-to-measure suit for a savings roughly starting at $35,000.
One of the coolest of these bespoke haberdasheries is a frighteningly hip store called STITCHED, at the Cosmopolitan - a "Best in Las Vegas" favorite among local news sources.  The store, which has a Roland Sands custom motorcycle in the middle of it, features its own private whiskey lounge, and a sprawling library of swatches from Canali-conservative wools (made in the same hallowed mills as the fabrics of the leading labels) to full-Rat Pack dalmation prints in dinner-jacket silk, to young Elvis gold-lamé.  
The cost of an average, "true bespoke" suit by one of the in-house master tailors at Stitched: $5000, which definitely adds room in the royal budget for extra niceties Stitched provides for men to "tweak" their suits — black grosgrain boutonnieres, or silk-knot cufflinks ($15).
Since I personally seek out the rarest avant-gardes in regional fashion, the garments I found myself most attracted to were street-fashion on the habitues of the Vegas strip — specifically, the day glo t-shirts worn my armies of exhausted, wind-battered, non-English speaking, middle-aged Chinese and Peruvian persons — the human billboards advertising GIRLS GIRLS GIRLS DISCREET and HOT-ASS-CORTS DIRECT TO YOU IN 20 MINS., with phone numbers and website information.  These fashion coups were a bargain at $20 a pop. The laborers, layered in multiple sweatshirts against cold weather, were more than happy to peel them directly off of themselves and hand them to me right on the sidewalk. I figure they'll make marvelous Christmas gifts.
Artwork: "Cuffy" - oil on linen by Cintra Wilson, 2021