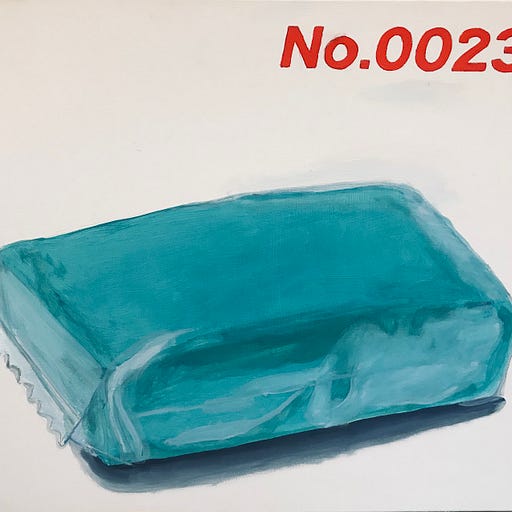 Dec 1, 2021 • 6M
HECK UP IN HARLEM
Opening Day of the Target in Harlem
This piece was originally written for The Cut, but they cut it instead of running it.
It was hot as hell up in Harlem the opening day of the new Target store in the East River Plaza mall, in March 2011.  From the nearest subway station on 116th street, it was like walking five avenues through a pizza oven.

The residents of Harlem were undeterred, and they all seemed to be there, packing the 174,000 square foot space shoulder-to-shoulder like the D train after a Yankees game.

At 1PM, the 26 checkout lines were already motionless in cart-to-stroller gridlock.

Target, a Frankenstore made by combining dismembered parts of IKEA, Staples, Toys R Us, Walmart, Best Buy, Home Depot, and Bed Bath and Beyond, has expressed a determination to crack the inner city market. To endear itself to the Salsa-ringtone and otherwise 'urban' demographic, it has installed a Spanish greeting card section and slangy t-shirts:

"Harlem's Fresh!" declares one, in a childish scrawl.
"Kickin' it pre-school!" says a smaller shirt.
"Run DMC" said the smallest black T-shirt ever, for the 18-month-old gangsta.

There was a large display of beach towels and swimwear by local artists Isabel and Ruben Toledo created expressly for the Harlem location, but it was largely ignored. (There are, after all, no beaches in Harlem.)

I came hoping to score fabric dye and sewing needles. These proved elusive.

The staff, largely comprised of friendly locals, wanted very much to be helpful, but despite a constant shouting on Motorola walkie-talkies, the store was too fucking big for anybody to have a grip on anything.

A woman named Lourdes looked at me with deep sympathy. "Did you see any sewing machines?" she asked.
"Did you?" I asked.

"Thread would be in Domestics," other sweet, equally clueless new employees would say, gazing fearfully at the zillionfold throng of customers and infinity of stuff.

I roamed through Domestics like I was on walkabout through the outback. I found Bocce balls, the Kindle, a Sponge Bob neoprene lunchbox, 12 different colors of duct tape (including tie-dye and plaid) fondue sets, a countertop grill exclusively for making 'sliders' ($24.99) a piñata ($12.99), a 10" packet of "Real Human Hair" ($12.99, "Made in China"), an electric guitar distortion pedal and a vaporizer shaped like a penguin.

I knew I was lost for the second time when I passed the wall featuring a stunning variety of meat-flavored chew-toys for the third time.

White cliffs of toilet paper. A ziggurat of bananas. Enough Axe Bodywash to plunge Hoboken into a permanent state of smooveness. Enough feminine protection to absorb the BP spill.

By 2:30 PM, a radio-controlled Chevy Camaro was parked next to an adhesive water-bra in the Intimates section ($5.99). The crowd expanded again; the atmosphere got heavier and more tense. The shopping had begun to hurt. People began groaning audibly, pressing through the clogged aisles with their overloaded carts. Children's tantrums got more serious -- full-lunged, purple-faced screaming in full backbends. A girl still in mid-puberty who could not have been over 14 had a very large and very real tattoo stretched across her collarbones.

A weird section of denim maternity-miniskirts looked specifically designed for pregnant tweens. A large Caribbean man looked me in the eye and continued undoing his pants in the women's bikini section.

A toddler with silver teeth let out a lusty howl - there were bright red stains smearing from each corner of her mouth down her neck. She looked like she'd just eaten a human thumb, but I reasoned she must have just consumed a box of dry Jell-o or maybe a bottle of Robitussin...

A cackling woman held up a pair of men's red underwear with a large black spider on crotch to the man with the tattooed neck pushing her baby in their shopping cart. The baby must have made a rude comment, for the father slapped it.

I finally found a small notions display across from a Stonehenge of ironing boards. But the thought of standing in the checkout line made me want to go back to Domestics and put all 790 varieties of kitchen knife into myself.

I abandoned my sewing machine needles and three-pack of rollerball pens on a display of Hefty bags, next to two Playtex all-day support bras and a bicycle helmet.

Like the military-industrial-security complex, the Harlem Target is, for the moment, too big to be properly managed or understood by anyone -- especially the people who are supposed to be in charge. Since then, it has probably evolved into a group of management warlord-states, but when it opened, it was abject chaos -- a vivid example of the hazard of too much stuff being controlled by too few people.