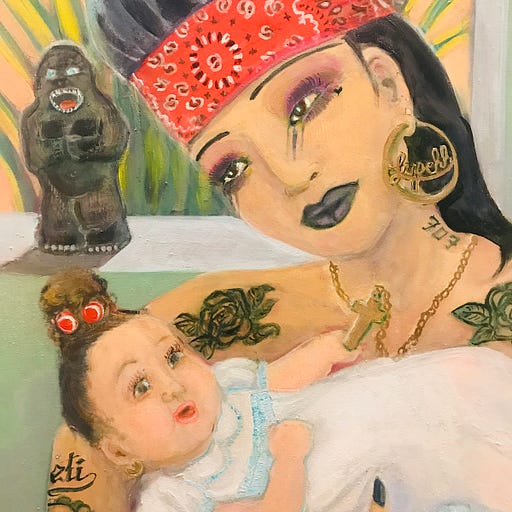 Dec 22, 2021 • 8M
HOLIDAY SPECIAL: NIGHTMARES AND TATTOOS
We Are All Geeks
Happy Holidays, here in the looming shadow of the Omicron variant. 
I hope this week's installation brings you deep spiritual joy. 
Since I still rarely leave the apartment, two items of media have been my source of contemplation this week, because both are emblematic of the behaviors of late-model capitalism. 
Edmund Goulding's Nightmare Alley (1947), starring Tyrone Power and Joan Blondell, (which was recently remade by Guillermo del Toro)  is a fabulous movie with more dark psychological twists and voracious gaslighting than a marriage counseling session with David Mamet.  Based on the bestselling novel of the same name by William Lindsay Gresham, the tale unfolds with Power as an empathy-free career con man who joins a traveling carnival. As he is securing his new employment with the troupe, the sound of a man's tormented howling fills the air. 
"The geek has got the heebie-jeebies!" Another character remarks. The geek in question, who bites the heads off of live chickens for the carnival audience, is shown chiaroscuro in an agonizing pose. He squeals and sobs like a soul in hell. It is the most chilling, disturbing sound I have ever heard on film. 
Powers remarks that he "can't understand how anybody could get so low." 
Powers ends up hitting the big time as a mentalist, in the movie, but in fealty to his ruthless nature, cutthroat ambition, and the fact that he sees everyone besides himself as either a mark or a rube, he pushes his tricks too far and gets tangled up in a sleazy operation with an even more heartless lady psychologist, who flips the script on him, steals his money and forces him to run out of town. 
Critic James Agee of TIME magazine wrote of the movie in 1947: 
"Nightmare Alley" would be unbearably brutal for general audiences if it were played for all the humour, cynicism and malign social observation that are implicit in it. It would be unbearably mawkish if it were played too solemnly. Scripter Jules Furthman and Director Edmund Goulding have steered a middle course, now and then crudely but on the whole with tact, skill and power. They have seldom forgotten that the original novel they were adapting is essentially intelligent trash, and they have never forgotten that on the screen pretty exciting things can be made of trash.
I believe it is no coincidence whatsoever that I saw the classic Nightmare Alley the same week my tattoo-show addiction dragged me under for 9 seasons of the reality series Ink Master — another show that might cause the untrained viewer to ask, "how could anybody get so low?" And also:  "Why are exciting things onscreen so often made of trash?" 
My obsession with is show is actually based in wholesome feelings - I like looking at the actual tattoos and hearing the critiques (which are usually brutal).  These serve as drawing lessons for me, since the tattoos are usually of a fairly high caliber.  The tattoos are judged on all kinds of criteria and essential skills such as technical application, precision, detail, ingenuity, gradation, artistry, contrast, cohesion, and legibility.  It's a grueling competition in which all of the entrants must live, eat, work and sleep in the same compound; many crack like eggs under the pressure, competition, in-fighting and critical scrutiny.  It resembles, in many ways, the inhumane marathon dance competitions that they had during the depression, as featured in the movie "They Shoot Horses, Don't They?" 
What amazes me the most about Ink Master - an elimination-based game in which multiple tattoo artists compete against each other until the competition is winnowed down to one tattoo artist who wins $100,000 and earns the title of Ink Master, is the canvases — which is the highly impersonal name the show calls the seemingly endless supply of weird people who are entirely willing to walk onto the set and be permanently tattooed with images that in many instances, they have no creative choice over. 
Sometimes the canvases are thrashed half to death over the course of a six-hour, high-speed tattoo session:  one girl melted down into a grand-mal panic attack when four different tattoo artists tried to simultaneously cover the back of her body with cheetah print.  Others black out from the pain, or sometimes the canvases walk out of the tattoo midway-through, because they can tell it is already a horrible black tombstone of a mess filled with rotting zombie-heads that they instantly regret. 
Ex-Janes Addiction guitarist Dave Navarro is the host of the show. He's a born carnival barker — a perfect new Chuck Woolery for the Gen X, deathrock demographic. He makes it seem perfectly natural to guide the artists into a frozen warehouse to tattoo pig corpses.  It's just another Tuesday on Ink Masters when he brings in a group of canvases to have their foreheads tattooed with slogans like "PURE MISANTHROPY" or "GOD IS HELL."  He seems perfectly at home introducing a group of amputees who wants their stumps tattooed, or people who want to have their swastikas covered over, to remove the evidence that they "fell in with a bad crowd" at one point in their lives. 
There are some moments of pure, carnivalesque entertainment.  For the live finale of Season 8, Dave Navarro flew over the stage with fakir-like flair, suspended with metal hardware piercing two giant holes in his back, his skin stretching a good six inches over his shoulder blades. 
At one point, in one of the tattoo elimination competitions, a giant marine contestant volunteered to battle in a competition against a high-caliber, asshole tattoo artist on the opposing team, with the chivalrous intent of "taking him out" for the sake of his other team members.  It was a moment of courage and self-sacrifice that caused some of his team members to cry.  I was surprised to find myself rooting for him. 
The thought of this brave jarhead defending my country filled me with something almost like patriotism, but the kind of patriotism you'd have felt in the 1950's or 1960's when America wasn't so unbelievably economically fucked up, and normal human beings with regular middle-class lives didn't have to slave themselves to death to survive. 
How does a guy become a geek?  How does anyone decide to become a canvas?  Why does the desire to be on television outweigh the fear of having a dark, unrecognizable mess on their face for the rest of their lives? 
To quote James Agee, it would be all too mawkish if it was played too solemnly, which is why here, in the midst of the ongoing pandemic and the worst economic disparity the country has ever seen, it is more important than ever, this holiday season, to be cheerfully, even piously drunk, and to revel in all available entertainments and the trash they're made out of.  A geek who doesn't take it too seriously will last a lot longer than one who still has dignity to bruise. 
Happy Holidays, everyone.  May the heebie-jeebies remain far from you and your loved ones.  
Artwork: Lupe and Leti, 2019, oil on canvas, Cintra Wilson
NEED AN EDITOR OR A BOOK COACH? STEP RIGHT THIS WAY. cintraw@gmail.com