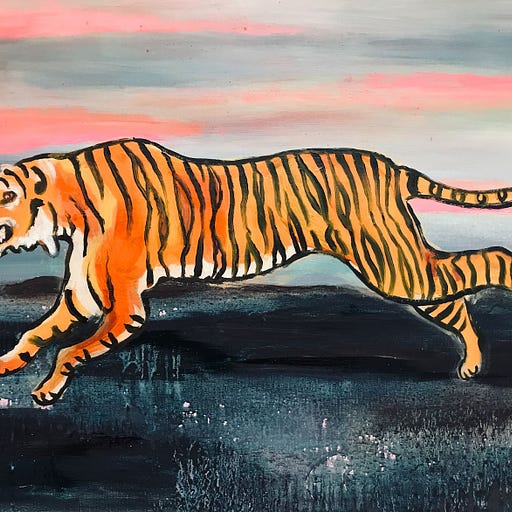 Nov 24, 2021 • 6M
I-HOP, THE ETERNAL FLAME
A story of misspent youth and fire
Age seventeen was my annus horribilis.
After going full-throttle on an extended drug binge with my friends in the Haight-Ashbury for a few months, I was finally kidnapped by my father and uncle and taken to rehab. After a month in rehab, I was transferred to a mental health facility for another month. Then, once I got out, since my parents had set me up to be urine-tested once a week, I ended up in juvenile hall after testing positive for marijuana, which I didn't even consider to be a drug at that point. Once out of juvie, my parents decided that instead of letting me come home, they'd give me a one-way ticket to Poland (which was under martial law, at the time) because there was a young Polish man renting what used to be my bedroom. I didn't know if I was ever coming back from Poland — my parents vaguely suggested that I should try to get into a rural film school in Łódź, despite my not speaking the language. So before I left, I asked my friend Mona (not her real name) to look in once in a while on my best friend Todd, a fabulous otherworldly creature and fragile beauty who was fondly known around druggy parts of San Francisco as "The Amana Speed Queen." I was hoping Mona would make sure Todd was alright - that he was eating once in a while, taking reasonable care of himself, and not dying.
I ended up spending two months in Poland — an entirely interesting experience since there were so many riots in the streets, at the time.
When I returned home, I tried to contact Mona, only to find out from her stepmother that Mona had connected with Todd a little too well. She had become quite obsessed with him, and had gone completely AWOL into the drug scene.
I occasionally went into the city to search for Mona, since I felt at least partially responsible for her newfound drug addiction lifestyle. Once I literally ran into her around the corner of a variety store on Haight Street. She was obviously speeding — running around frenetically in an old bomber jacket with her hair shellacked straight up. She didn't want to talk to me, so I grabbed her by the lapels and threw her up against the store window, in an effort to shake her into returning home with me. The store owners came out to yell at us for potentially breaking their window, and she weaseled out of my grip and ran.
I wasn't the only one trying to kidnap Mona and bring her back to the suburbs. She had a friend named Caesar who was a janitor at the local Howard Johnson's motor lodge. Caesar was an older hispanic man who spoke little English but was horribly in love with Mona, far past the point of self-preservation; Mona mostly used him as a cash-machine and taxi service. We were allies, however, since we both wanted Mona back in the bosom of her family, so one day we decided to try to go hunt her down.
For some reason, Caesar didn't want to travel to the city in his decrepit white van, so we drove over to the houseboats to meet a friend of his — a large shaggy man who lived in an A-frame with molding red carpet. Having evaluated our mission as worthwhile, he reluctantly handed Caesar the keys to his "baby" - a red 1973 De Tomaso Pantera. And with that, Caesar and I roared over the bridge with high-performance Italian machinery into the city, to troll whatever druggy corners, cafes or apartments we knew of, in search of Mona.
It was fruitless; she was not to be found in any of her usual hangouts.
Somehow I got a tip that she might be in a certain apartment in the Fillmore, so we drove over there and I knocked on the door. A skinhead opened it — it was a tiny studio apartment crammed to the rafters with skinheads and anarchist graffiti all over the walls. "You just missed her," said a guy with a bleached mohawk who was doing something to the floor with a knife. "She left about an hour ago."
Ceasar and I were dispirited, and decided to give up the hunt as the sun began to go down.
Heading back toward the bridge on Van Ness Avenue, the Pantera started to choke and sputter and finally cacked out. We rolled it into the nearest parking lot at the International House of Pancakes. The car had overheated; once it cooled down it was simply not turning over anymore. "Oh no," Caesar moaned. From somewhere he produced a large Tupperware container and filled it with gasoline.
Caesar installed me in the driver's seat and had me keep starting the car and hitting the gas while he poured gasoline directly into the engine from the container. I had a feeling this was a bad idea; this was confirmed when there was a loud, audible WHUMP and in the rearview mirror I saw Caesar stagger backward, away from the flames that now engulfed the back end of the car. I rolled out of the driver's seat and hid behind another car in the lot in case the Pantera exploded. Caesar ran to my side, crouching with me, shaking his head, saying "Oh no," over and over, as we watched the Pantera burn.
It was then that something magical happened.
There under the beginnings of the sunset, beneath the illuminated I-HOP sign, four extremely black African chefs in extremely white chef costumes and tall white chef hats ran out of the restaurant with fire-extinguishers and went to work foaming up the red Pantera. I knew I was witnessing something beautiful that I would never forget; I was miserable that I didn't have a camera.
That was the last of the excursions Caesar and I would take into the city. Eventually, Mona came home of her own accord, straightened her life out and had a baby. But to this day, I have no faith in Panteras. They always overheat.