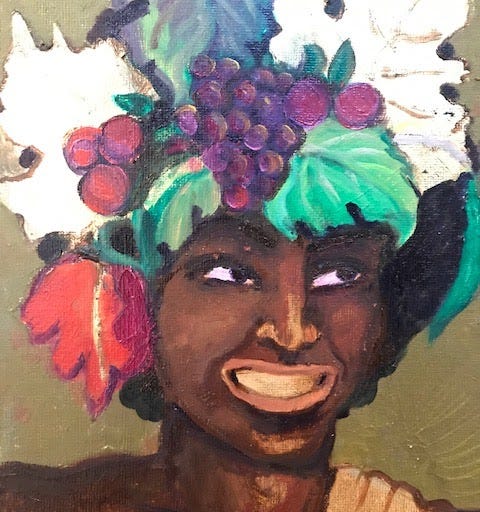 Dec 8, 2021 • 9M
THE LUXURY OF TELEVISION/ BLACK INK CREW (NY)
White guilt over a very guilty pleasure
"I'm sitting there in jail, and I'm watching you get a new ass, a new pussy, new titties, and you can't pick up a phone and call me for fifteen years?" 
This is 19-year old Genesis talking about his birth mother, Sky, who gave him up for adoption 15 years ago.  
"I was living in shelters selling ***** and I gave him up to give him a better life!" Sky cries, to a different camera. 
I started watching VH1's Black Ink Crew because I like tattoo shows.  I like to see good tattoos, fucked-up tattoos, tattoos being repaired, people wincing when they're getting tattooed, crying with happiness when it's over because the work is meaningful to them.  But this show sucked me in on a whole other human soap-opera level, which has proved somewhat obsessive. The characters involved in this world are indelible, volatile, beautiful, impossible and occasionally criminally insane - in short, God's gift to the television medium. 
At the center of it all is Caesar, a brooding, charismatic Tupac of a man in a thick gold chain, sipping Hennessy in a shirt that looks like an Hermès scarf.  At the beginning of the series, he is the owner and Emperor of Black Ink, a tattoo studio on 113th Street and Lenox Ave. in Harlem.  Caesar tries to grow his tattoo empire while weathering infinite distractions.  Whenever the shop throws parties, there are  always strippers present, and fights. "All my friends is drug-users and pregnant, including me," half-jokes young receptionist Jadah. The power gets shut off not infrequently; he periodically gets served papers pertaining to his long-suffering baby mama; at one point, he ends up serving time over child support. His tattoo artists are like herding cats — sometimes they just don't show up, or they show up drunk, or end up in jail.  One of Caesar's oldest childhood friends, a dreadlocked goofball named Puma, who started the shop with him, ends up being his mortal enemy when Puma is fired from Black Ink and opens a new tattoo parlor in Harlem.
The rivalry and the hatred is real; in a peak moment, Puma tries to clock Caesar in the head with a Hennessy bottle in an all-out street brawl. Shots are then fired into Puma's shop, although there is no explicit indication that this is a retaliation from Caesar.  What is clear is that even though this type of drama is the essence of Reality TV, the consequences, like the more regrettable tattoos, are actually quite real for the people involved. 
The most compelling character is Dutchess (sic), aka The Dutchess of Ink.  Dutchess, a beautiful tattoo artist, looks like Eryka Badu if the dreads down to Eryka's waist were real.  She is smart, deep, educated and funny. The romance between Caesar and Dutchess is slow-moving, difficult and epic.  They fall deeply in love for the first time in either of their lives, and neither are really emotionally equipped to deal with it.  After Dutchess takes Caesar back to North Carolina to meet her terrifying ex-Marine father and they get matching chess piece tattoos of the king and queen on their hands, Caesar cheats on her. She moves all of his sneakers out to the sidewalk and calls the cops.  Later, they get back together and become engaged when he follows her to Paris for a tattoo magazine photo shoot.  Dutchess is all class and glamour until her outstanding temper gets triggered; at that point, she throws her shoes off and will pull all the weave out of a bitch's head.  Above all, Dutchess is a focused businesswoman; her refusal to cope with the backbiting, gossip and extra-curricular drama makes her the enemy of most of the other tattoo artists in the shop, who think she's full of herself. 
O'Shit, one of the tattooed artists, begins the show with two unhinged baby mamas and adds another two by season 6, all while trying to evade a long prison sentence for a gun charge, from the time he was pulled over in another girlfriend's car and her gun was in the glove compartment.  He gets the word "Serenity" tattooed in huge letters on his arm after spending mandatory time in rehab, only to abandon sobriety a short time later in the series. 
Sky may be a 14-point buck of a sociopath, but this didn't stop me from fan-messaging her on Instagram that she is one of the most beautiful women on earth.  She is a Reality TV superstar from the second she gets onscreen:  a light-skinned Sade with an inked-up neck in an orange cosplay wig — a cross between Josephine Baker and MMA fighter Megan Anderson.  In season 1, she is merely a loud, slutty nutcase who rips her shirt off and fights tits-out during parties.  By season 6, she has second billing in the show, and not for nothing.  Reality TV was built for Sky.  
 Every season Sky gets a new body part overhauled by some nutcase plastic surgeon named "Dr. Miami." 
Sky both starts shit and finishes it,  brawling over the most minor of infractions.  She screams a lot and breaks scads of stemware in volcanic rage outbursts.  She connives and spreads rumors all the while screaming hilarious commentary into the camera like an irate drag queen. 
Sky goes to jail at one point when her credit-card fraud past catches up with her; she is sentenced to two months in a hellish Joe Arpaio tent-city prison in Arizona. While she is there, her boyfriend empties her bank accounts and shacks up with another woman in her apartment.  
Sky gave birth when she was 14 to her first son, then had another son while still a teenager.  When she was homeless and/or incarcerated at 19, she gave the boys up for adoption.  While one of the boys embraces her for a tearful reunion,  Genesis, the son who looks exactly like her, refuses her overtures during the series - he remembers being a child and his mother walking away from him after giving him up for adoption.  "I remember the day she dropped me off and never looked back. I wanted my mama when I didn't have my mama. 15 years with no phone call?" Laments Genesis, who does not forgive Sky, and at one point tries to fight her. 
Donna, the worst tattoo artist of the crew, is a sweet-faced bisexual girl (she has freckles actually tattooed across her nose and cheeks) with a number of multicolored wigs and an enormous bottom who is horribly abused by her boyfriend, until he is incarcerated for a drug conspiracy.  Donna has sex with almost everyone in the shop, and suffers from no less than two ectopic pregnancies by season 6. "This bitch Donna is the toughest owl, and I know this bitch is gonna come through this and persevere," says Sky, in one of her aside commentaries.  
There are numerous other completely absorbing characters, including Teddy Ruks, a smooth-talking zaftig bastard with an angelic smile and no monogamy in his heart whatsoever.  Women fight over him, including Sky.  There is a tattoo artist later in the series who goes by the name Vagina Slayer.  
What is most interesting is the real-life ramifications of the show, which were best illustrated by Dutchess, who had choice words for the experience after leaving the series in 2017. 
"Reality TV is meant to diminish mental health not only for the people on the show but for the people that watch the show," Dutchess remarked on the podcast, Talk of the Town Unfiltered.
 "You really have to have a certain level of disdain not only for yourself but for Black people in general, to want to watch something that you keep seeing Black people, and they never come to a place of success. Every f–king episode is fight or f–k…I'll tell you what drove me crazy more than that. What drove me crazy more than that was the group of white producers that was literally instigating ignorance and negativity trying to make you feel like you really are f–kin' crazy." 
Dutchess, who still operates a successful tattoo parlor in North Carolina called "Pretty-n-Ink", added that the producers were a "group of racist white individuals" who established a relationship with production houses in order to "further the propaganda of racism," according to an article on meaww.com.  
This is the crux of the issue, as a white person watching the show.  
It produces a fretful guilt and anxiety over what is objectively entertaining. I shouldn't be watching this, you think to yourself. This is an insult to black people, and not how they really act.  But there are several seasons to go, and I am hooked - I genuinely care about the cast members. Sky supposedly quits the show after beating up another of her abandoned sons later in the series.  How am I supposed to not watch that?  
If I'm going to White Guilt Hell anyway, at least I can do it watching flying wigs, big, round g-stringed asses and riveting tattoos.  I truly hope the cast is getting rich.  For the rolling disgraces the show puts them through, they really, really deserve it.
 Please forgive me, Black Jesus.  I can't look away. 
Artwork: Black Bacchus, oil on canvas 2019 by Cintra Wilson